Sponsored studentships....more
Travel grants for schools and post-graduate students....more
Welcome to the website of the North West Region of the Analytical Division (NWAD) of the Royal Society of Chemistry.
Our main remit is to promote analytical science across the region by arranging activities for school children, students, practising and retired chemists. We also aim to enhance contact between our ~1,200 members who are spread throughout the region from the Scottish Border to Mid-Wales.
The current region was established fifty years ago when, in 1966, the former North of England Section of the Society of Analytical Chemistry was split into two sections. More information about the history of our region can be found in the following publication:
Updated 15 September 2017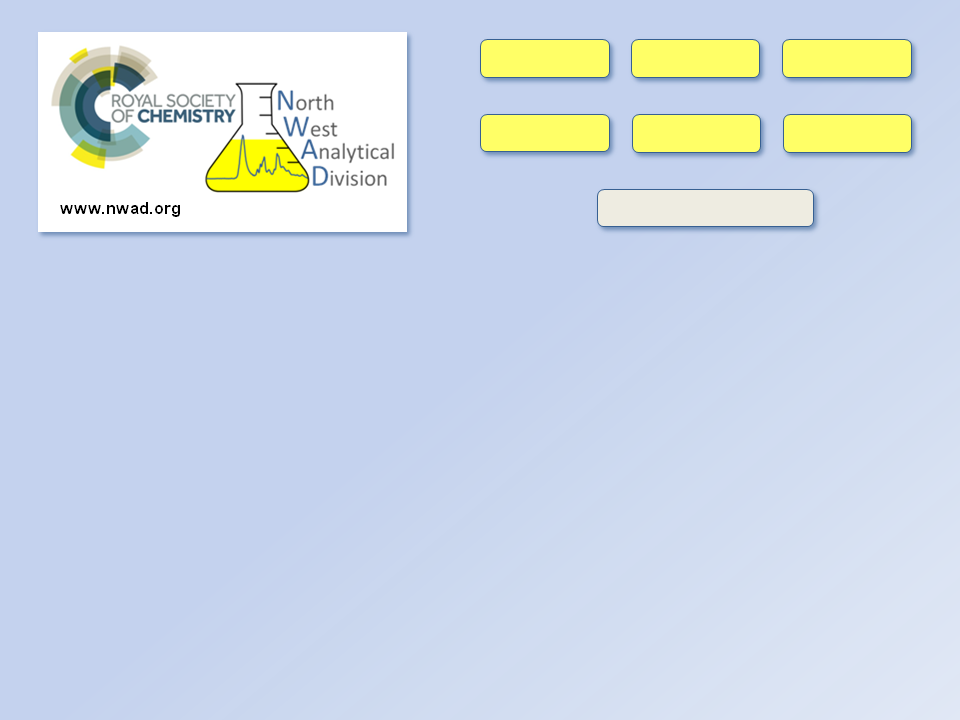 NWAD long service members and guests enjoyed a very pleasant meal at their 32nd annual lunch party during which there was plenty of opportunity to catch up on news and share reminiscences with former colleagues.
NWAD is re-branding our Streamwatch activity as H2OWatch to reflect the excellent outreach work undertaken by staff and students at Manchester Metropolitan Univeristy (MMU) in developing our Streamwatch kits and promoting their use amongst schools in our region and abroad. MMU has also used the kits to raise public awareness on the value of chemistry at the Manchester Science Festival, and trained staff at the Catalyst Science and Discovery Centre (Widnes) enabling them to incorporate Streamwatch in their workshops and science clubs for visiting schools and community groups.
Long Service Members Lunch
Vicars Cross Golf Club, Chester
Wednesday 7 June 2017
North West Schools excel in National Final of Schools Analyst Competition
NWAD is delighted to report on the continuing success of our schools in this competition. Sir John Deane's College (Northwich) won the national final and Withington Girls School (Manchester) took second place. 306 schools from across the UK and the Republic of Ireland participated in 27 regional heats of this competition with the winners of each heat progressing to the national final, which was held at Sussex University on 21-22 June 2017.
NWAD thoroughly congratulates the students and teachers from Sir John Deane's College and Withington Girls School on this great achievement.